Ahegao is one of the most popular drawing styles in the anime manga that has been re-cosplayed in reality recently. In this drawing, the face is drawn with round eyes, mouth open, tongue out, cheeks red and wet (due to the effect of sweat, saliva). If you like this cute, cute round expression, then what do you think about the clothes you wear have the Ahgehao mark. If you find it interesting, we will give you some Ahgehao T-shirt template suitable for this summer season.
1. Ahegao Multicolor Girls T-shirt
One of the popular designs and many people wear today is the full textured shirt and pictures, this product is also designed with the same style, the synthesis of images and expressions is easy. The brand representing Ahegao's drawing style is arranged logically next to each other to create a new, attractive and youthful effect.
You can combine this shirt with a jeans jacket or wear them with jeans which are all very stylish.
2. Ahegao Hentai Multicolor T-shirt
Another version of the ahegao full-3D printed t-shirt, which also brings a range of expressive excitement, excitement that is typical of this drawing style. Different from the above design, the product has quite outstanding colors, bold personality, youthful, attractive suitable for women.
You can wear it as if showing your expressions the day you wear them. That's a great idea, isn't it?
Expressions that seem extremely amusing such as gaping mouths, drooling … are not only suitable for situations that express interest, but also in meme images, specifically like the design of this product. The creativity mixed with humor transformed in an expression of craving for the fragrant pizza will make you laugh every time you look at it.
Expressing fun, fun and sometimes just your love for pizza in this design has never been so sensible.
4. Ahegao Unisex Red T-shirt
The expressions in Ahegao sometimes make us feel they bring out cute, cheerful emotions but you don't want to be new and different? This design can be a suggestion for you, different from color The color often used in Ahegao, the product stands out with the main bright red tone combined with the expressive image in ahegao, all create a strong, extremely outstanding, you will be extremely outstanding when wearing this shirt.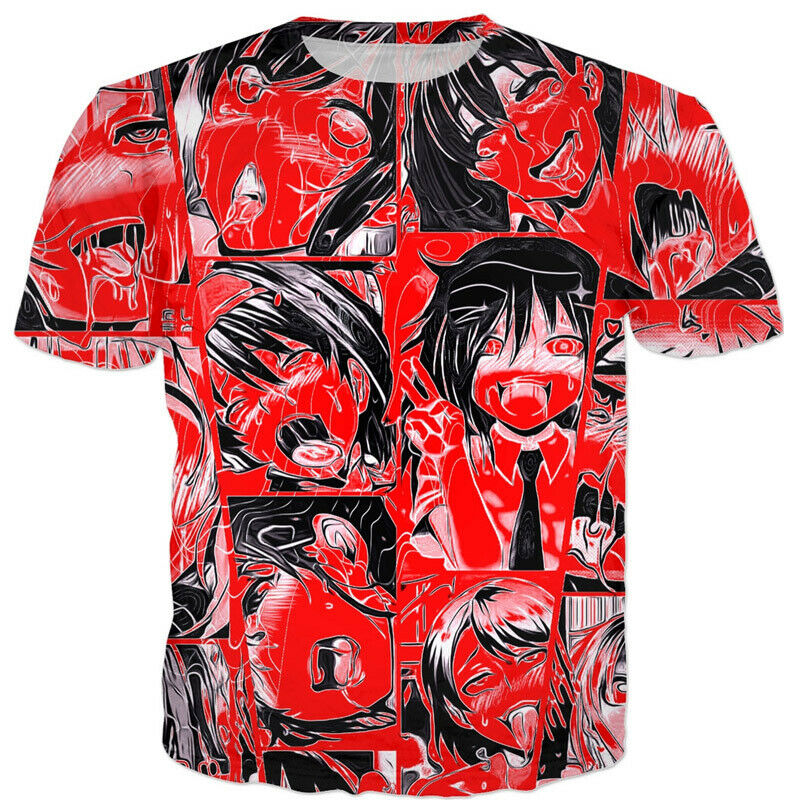 5.Ahegao 3D Unisex T- shirt
If you are not satisfied because the color of the product we just introduced is too outstanding? Don't worry, this shirt also comes in a more elegant color version.
The main color design is blue, suitable for both men and women, thanks to the combination of this color, we will feel the expression in Ahegao's drawing is less clumsy. Instead of 3D printing as in previous designs, the design of this product is like being drawn directly on the shirt – a design popular with many young people when choosing T-shirts. It's a pity if you miss this product.
6.Multicolor Unisex Ahegao T-shirt
This design brings a different color to your style, which is horror and fierce, between images that seem extremely cute, fun becomes cold and mysterious with excellence. a red streak of blood on his shirt. The product brings mystery and impression to the wearer at first sight.
7.Cyberpunk Ahegao Unisex T-shirt
The design of this product does not show too clearly the images or expressions in Ahegao's drawing, they are subtly hidden under the striking neong blue layer and personality, the combination of black and blue. neong creates an extremely attractive and masculine effect.
8.Ahegao Multicolor T-shirt
Following on to this product, we have combined the expressions in Ahegao's drawing into cute selfies, a lot of expressions are gathered and gathered in this product, prints are printed in full. the front and back of the shirt create mischief and playfulness.
 If you find this colorful t-shirt interesting, don't miss it.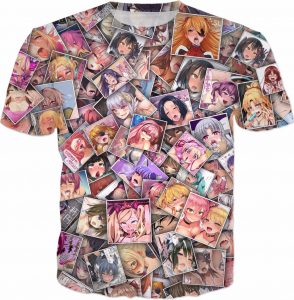 It is still an expression of extreme happiness drawn in the way of Ahegao's drawing, but with a little variation, no longer cute, sexy, but more humorous. That's why we call it the Ahegao Funny T-shirt. It's gray, not too colorful so it's not too prominent and ridiculous, it's pretty easy to match.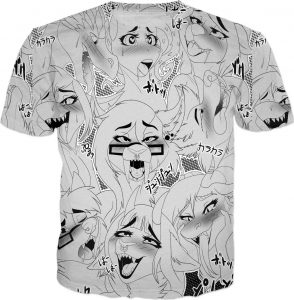 10.Dojin R18 Ahegao T-Shirt
Finally on this list of extremely hot T-shirts is the Dojin R18 Ahegao T-Shirt, just simple images, a combination of text and pictures and a full 2-sided 3D print. . You will become the focus of the crowd by wearing them.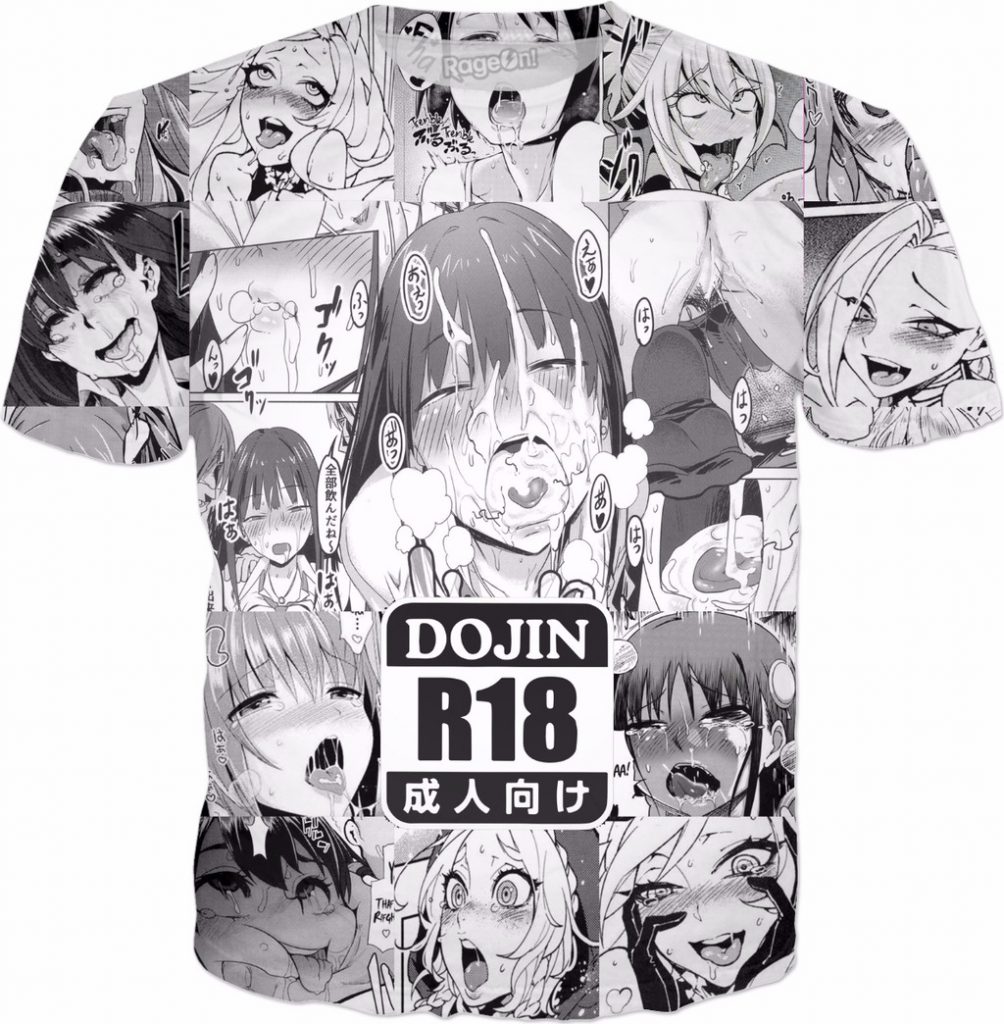 Above are the top 10 T-shirts that we send to you in the summer of 2021, please stay tuned for the new products we are constantly updating above.