Over the past year, Ahegao (pronounced ah-heh-gah-oh) has grown out of the dark corner of the Internet to become mainstream culture.
What does Ahegao mean?
Although Ahegao is already a group today, it is not a new thing. The Ahegao cult has been popular for many years, and the Ahegao girls have been actively attracting users online for about ten years. The first thing you must know is that Ahegao is an intrinsic part of adult Japanese animation – known as "hentai" outside of Japan.
How does the dictionary define Ahegao? Check out the top suggestions to find out what Ahegao is.
Wikipedia
The world's top free online encyclopedia mentions Ahegao (あ へ が お) as a term used in Japanese animation pornography. In particular, the source said, Ahegao means "facial expressions of fictional characters during sex". Ahegao has synonyms like "Oro-Face" or simply O-Face.
Where can you see Ahegao's face? According to Wikipedia, it is often used in eroge (Japanese erotic video game) and anime and manga.
The encyclopedia also emphasizes that Ahegao is widely endorsed by Japanese pornography today. Ahegao girls wear special clothing and art (cosplay) makeup to portray hentai characters and receive a lot of appreciation from anime fans for that.
Today, Ahegao's silly faces appear not only in the adult scene but also in the non-sex entertainment industry, the source said.
Urban dictionary
The Urban Dictionary explains that Ahegao is the "orgasmic facial expression" used in anime and manga. For the description of the lance and rolling eye, the dictionary adds "heart eye" or "heart pupil" but they may not necessarily be met in Ahegao's expressions. Interestingly, other definitions suggest that Ahegao could also have a «star eye».
Overall, as Urban's dictionary points out, Ahegao is a very lustful and erotic facial expression. Unlike Wikipedia, the Urban dictionary goes so far as to associate Ahegao with Hentai BDSM and even to the cult of 'rape' in such cartoons. However, Ahegao raped himself not as much as Ahegao.
KnowYourMeme
KnowYourMeme narrowed the definition down to "a genre of drawing in Japanese Hentai comics". The source also implied that Ahegao's facial expressions were not limited to portraying female characters. The site also states that Ahegao is when a character displays a "intense amount of pleasure" during sex in comics.
In terms of etymology, KnowYourMeme divides Ahegao into two words – «Ahe» (a part of Japanese «Aheahe» meaning a woman who groans in sex) and «Gao» («face» in Japanese).
The website describes it as a combination of:
Tongue hanging
Eyes rolling
Blushed cheeks
Presence of body fluids like semen, tears, drool or even a runny nose on the face
Furthermore, according to KnowYourMeme, a genuine Ahegao can also be accompanied by weird moans. Here are some examples:
History of Ahegao
Ahegao is not a new word. It was used as early as the early 1990s in adult magazines. There, it helps to depict the facial joy of erotic actresses. Today, it is one of the most popular films in Japanese animation and manga. How did Ahegao become so popular in just a few decades? See Ahegao's timeline for answers.
Early 1990s – the word "Ahegao" was used in adult magazines to describe the facial expressions of actresses of sexual satisfaction
Early 2000s – used it in 2channel, the BBSPINK porn content community, and in adult videos on e-commerce platforms
2003-2005 – Ahegao was used by creators of adult-directed animation (including manga) for the first time in a «dark setting». In particular, Ahegao is the description of erratic orgasm after unwelcome sex, rape or heavy BDSM
Mid-2000s – Ahegao developed into an independent painting style when the term was founded. It has also become part of otaku culture – the culture of people obsessed with manga and anime.
2008 – The first collection of Ahegao-themed manga A-H-E was released
2010 – Article by Urban Dictionary and Reddit / r / Ahegao subreddit released
2010s – Major publishers have used Ahegao-themed comic collections. Ahegao is a facial expression used in porn videos in the adult industry in real life (as part of the popularity of hentai dramas)
2017 – Pixiv Japanese illustrator community organized more than 20,000 illustrations tagged as «Ahegao»
With the advent of Instagram and the further widespread popularity of YouTube and other platforms, Ahegao has left the Japanese animation industry and is now featured in the production of social media bloggers like Belle. Delphine and meme makers.
Belle Delphine
One of the best cosplayers to show Ahegao's face is Belle Delphine. Belle Delphine is a model living in England. She is famous online for her infamous, lascivious and cute content (photos and videos) featuring Ahegao's face.
Today Belle Delphine ranks first among the Ahegao girls – accurate facial expression and acting ability on par with a playful personality and cute appearance, making Belle Delphine the superstar of Ahegao.
Currently, the cosplay actress can boast the 2.7 million followers she has on Instagram, more than 228 subscribers on YouTube, more than 2,700 patrons on Patreon, as well as many sub-fans on Reddit. with thousands of users.
This Ahegao girl appears to be more ostentatious and generous on Patreon, where she shares pornography and provides access to private Snapchat ads locked posts for fan donations.
Belle Delphine's popularity has spread to the point where her pseudonym has even been identified on the Urban Dictionary. In particular, it is said that Belle Delphine is an "internet jaggle" who became famous for its meme and stupid Ahegao making.
Related memes to Ahegao
Ahegaokin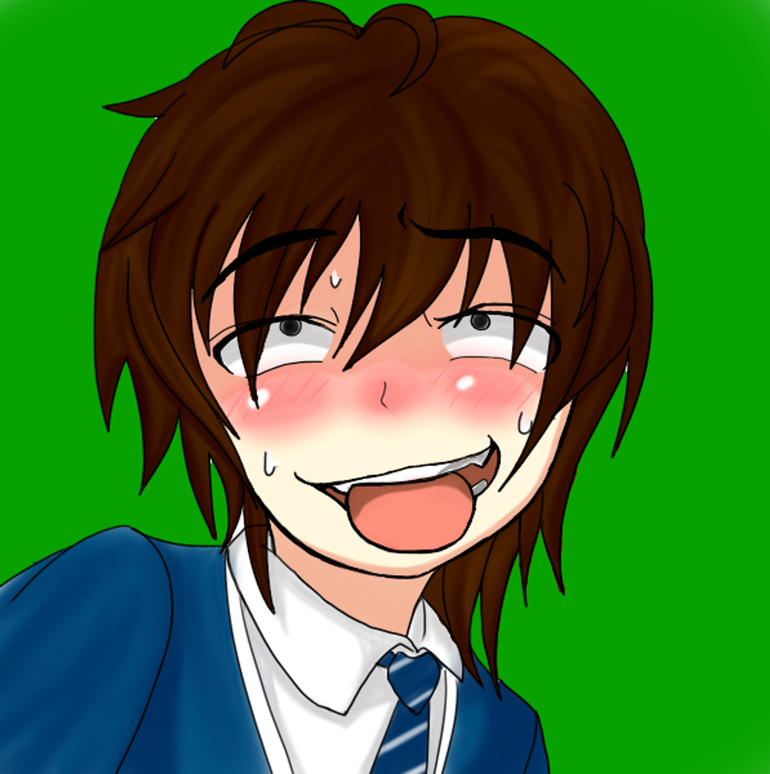 According to KnowYourMeme, this is a series of «men of labor exploitation». As is known, exploitable items are meme templates that do not have defining characteristics and can be tailored to the needs of the author. Ahegaokin was born from 2chan's photoshoped Ahegao image of Suiseiseki in Rozen Maiden (Japanese comic series).
Baan face
Iroe Genma (or Nee-san) in «+ The oldest sister Tic» (another Japanese manga) used to have a face like Ahegao. Then that expression became a meme called Baan Face.
Ahegao Double Peace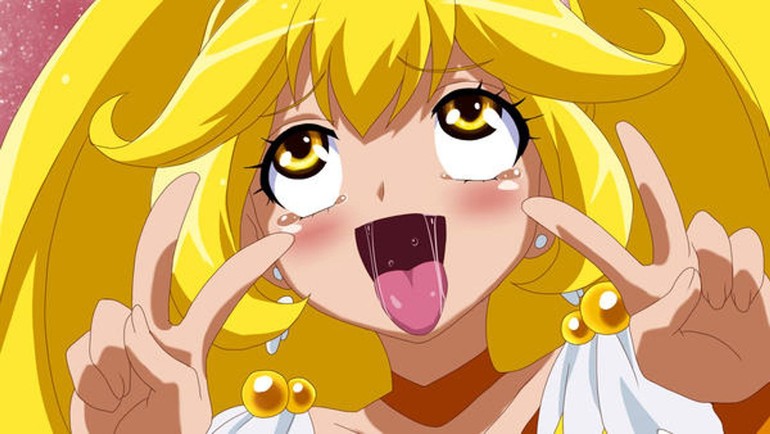 The only difference between this meme and a traditional Ahegao expression is that two V-signs (known as «peace» signs in Japan) are used alongside the «horny» Ahegao face.
Desu Desu
This is related to the Desu meme. The latter was used to ridicule anime fans as well as people who mocked such fans. Furthermore, Desu Desu is a meme that can hold an advice and use Suiseiseki's Ahegao face.